The MoSCoW method – what sounds like a fancy drink is actually a way to help you make decisions. Many musicians face numerous decisions when they plan a new music release or their career overall. No matter if you planning your next digital release strategy or seeking out management.
There are always so many things to decide upon. From whether you should hire a tour photographer to which merchandise you should produce.
All while you simultaneously need to practise your instruments or voice and write music, too! One of the problems that you hear most from musicians is the issue with prioritisation. How do you know what decision you need to do now and what can wait?
There is help though, you can use the MoSCoW Prioritisation Method.
The MoSCoW Prioritisation Method can help you determine which decisions have priority over others
Here's the thing: sometimes all you need is a simple Pro & Cons list in order to make a decision. However, if you have a lot of things going on at the same time, you might need something more elaborate.
Bring in the MoSCoW Prioritisation Method. Originally developed in the programming world in order to know what features of a website need attention first. This is crazy, just like the SWOT analysis you can totally use this for your music career. F
Firstly, you need to pin down what you are seeking to prioritise. Is it money that you want to use smartly? Or do you need to prioritise time? Whatever the resources, this is the base of the method.
It is an acronym and stands for the words:
Must Have
Should Have
Could Have
Won't Have
The first one is quite obvious, it's all things that you must have in order to make your project a success. So for example, think of your music being finished and produced as a must-have in order to release it.
Having a release strategy is also a must-have if you want to reach out to any fans. Some form of promotion is also a must-have, no matter if you're using your newsletter or running some ads on social media.
Somehow you need to let the world know that there is new music out there from you.
All things that you can label as must-haves do get ultimate priority over other tasks. So you don't need to think about music videos as long as you don't have the music finished. Also, you don't need to think about merch without having the release in the first place.
Have a clear priorisation method can really help you to make decisions faster
The next level in the prioritisation list is all should-haves.
They are essential to the product, project, or release, but they are not vital.
If left out, the product or project still functions. However, the initiatives may add significant value.

*source: productplan
In the music context, this means for example having a vinyl pressed. Yes, it could add significant value to your release, but it is not vital. Your music is vital, not so much the physical products you sell to your fans.
Next is the could-have stage of your project. Those are the 'nice-to-have' elements, great if you make it happen but also no tragedy if you need to leave it out.
For example, it could be nice to have elaborate merch but it is no tragedy if you cannot afford it right now. Also, having massive music videos shoot over three days, nice-to-have but not essential. You can also just simply shoot a DIY video (which could fall under the should-have category).
The last category is the won't-have type. Here you can place things that will not happen in this project but might in the future. So for example, let's say you a planning a tour. Then perhaps your wish of going on tour in the US will end up in the won't-have area. You will not tour America this time around, but that doesn't mean you'll never tour it. It is simply out of scope for this specific project.
This can be a great way for you to manage your expectations and let go of elements you really wanted but cannot achieve as of right now.
Being able to let go of project elements can really help you in the long run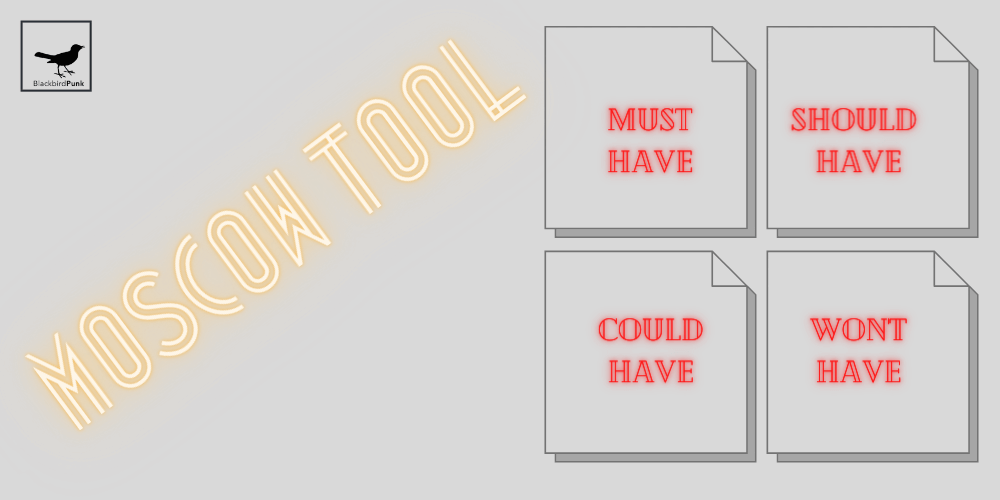 One of the best parts about the MoSCoW method is that you can also use it in teams. Most music releases are helped by a team. For example, you will have the band but then also the management, record label people, distributor, PR agency and touring company.
In order to involve all those different people in one coherent way of the decision-making process, the MoSCoW method can be a lifesaver. You can mutually come to an agreement on how you settle different opinions and then take advantage of the MoSCoW method as much as possible.
---
Surely, the MoSCoW method was not invented for the music industry or musicians. However, it can be a huge benefit to think outside the box when it comes to making important decisions. Having a transparent and straightforward approach can not only save you nerves and money but also your whole music project or release. So much of success in the music business comes down to making the right decisions at the right time – the MoSCoW method can greatly help you gain success!