A Decision Log sounds like a mixture between an old sailing practice and something very boring. However, don't be put off by the dusty name. It could very much be the thing that's going to save your band!
Here's the thing, being in a band is mostly a creative undertaking. You come together to write songs or your band leader will present you their creative output. Then you might rehearse them until you're confident enough to record them. Of course, this is a very simple description of what a band does.
One thing bands are not inherently known for is an action plan on how to make decisions. One might think that this will only be needed once your band hits success. But far from it.
This attitude will have you lose out on many important steps. Or will even prohibit you from becoming successful altogether.
The question is: how you can make better decisions or even how to start making decisions in the first place?
Firstly, learn about communication and make it your first priority. Without being able to communicate within your band you won't be able to have discussions and subsequently come to a decision.
Next, learn how to prioritise to-do's. This gives you the scope to only discuss things that are relevant right now and push back those that can wait.
What is a Decision Log?
You already might be wondering, what is a Decision Log? Well, it is quite a simple measurement with a big impact. It's literally a book where you keep all your joined decisions as a band. Sounds simple?
Here's the kicker: the action of writing down a decision will make it far more permanent than just talking about it. It gives you the certainty that all band members agree upon it.
This is crazy, being forced to write down the agreement in the Decision Log will also hold every band member accountable. Very often in discussions, people say one thing and then later remember it quite differently.
In order to bypass this and avoid major fallouts because of it, having a Decision Log at hand is crucial.
How to use it
Here is a good and simple example of a Decision Log. On the lefthand column, you can write down the agreement. Make it as specific as you can and incorporate what you've agreed on and why you did that in the first place. The next column is there for you all to sign the agreement. Finally, you can put down the date on which you made the decision.
This might look a bit over the top in the beginning. But bear in mind that most bands play together for a very long time. Being able to remember every decision you've ever made as a band is really hard. Having a Decision Log however where you can simply check the date and the agreement makes life so much easier.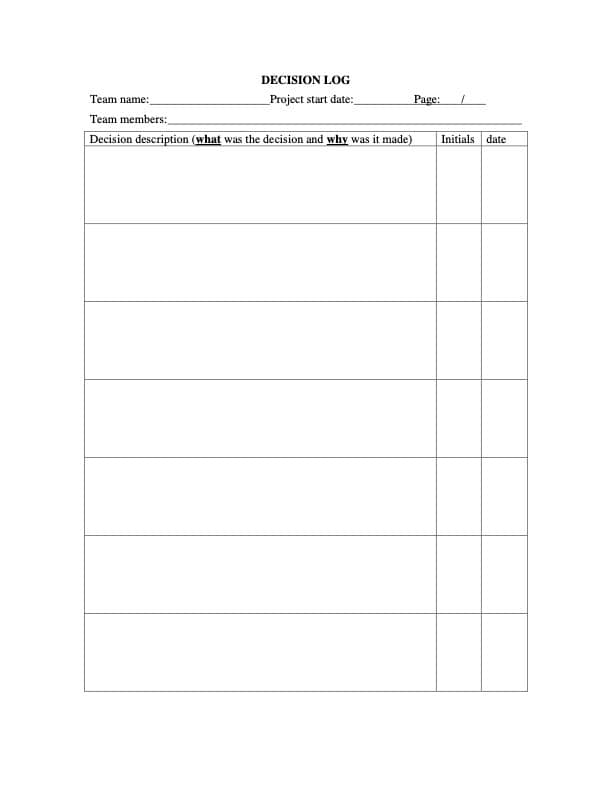 The purpose of a decision log is to make information available to people who were not present when the decision was made, and also to provide easy access to key information about past decisions when questions arise.

*source: LucidMeetings
Another important aspect of filing a Decision Log is to explain decisions you have made as a band in the past to any new person that joins the team. For example, let's say a manager approaches your band in order to work with you. Perhaps the manager person has specific questions as to why you did certain things the way you did. Now you can simply pull out the Decision Log and explain it all.
Now I hear you: what if you're a solo artist or even just a self-employed person in the music industry? Keeping a Decision Log is still super valuable even if you make all decisions yourself.
Why did you start the Pre-Save campaign two weeks prior to the single then your normal one week? Looking back into your Decision Log will help you to track and remember all the choices you've made along the way.
Want to know the best part? The earlier you set up those measurements the better equipped you are for the future. I hear you, this is another boring part that nobody wants to do. Having honest and transparent conversations either with yourself or your bandmates is hard. However, that's when you know it's important!